HEART & SHOULDERS ABOVE THE REST!
July 11, 2018
The Heart of Gissing Community Centre not only won the hearts of the judges but also the 250 construction industry professionals who attend the LABC East Anglia Regional Awards held in the magnificent Kings College in Cambridge on 29th June.
Omnis Construction previously made the final in 2016 for the Great Shelford Sports Pavilion project, but this year went one better by winning the award for 'Best Public Services Building' for the 'Heart of Gissing Community Centre' and picked up the award together with the architect and CNC Building Control.
'We are absolutely delighted to receive this award for a project that meant so much to the whole team, it's just recognition for the tireless efforts made by all' says Project Manager, Simon Dazeley.
The new stunning, purpose-designed community building was designed from stages 1 to 3 by Peter Mason and stages 4 to completion by Lionel Thurlow from Thurlow Architects and constructed by Omnis Construction thanks to a £711k grant from the Big Lottery.  It is a replacement for the old wooden village hall situated in a different location, which dated back to the 1905 and was beyond repair.
The community centre which opened last year, holds a wide range of village activities and events.  Among the facilities provided is a multi-purpose function room, which can be easily adjusted as a celebration venue; a rehearsal space with sprung floor, barres and mirrors; a meeting room or a comfortable setting for classes, clubs and informal get-togethers.  Alongside there is a café designed to be a welcoming social hub.
Steve Fulcher, CNC Building Control Service Manager commented "We are absolutely delighted that this project won.  It is not just a credit to the contractors and design team but also the efforts from the local community to raise the funding for a community building that is fit for the 21st century and can be adapted to fulfilling the needs of this vibrant village community."
Omnis, as winners, have automatically been forwarded to the Grand Finals which will be held on Friday 9th November at the Westminster Park Plaza in London, the team are looking forward to another great evening and hopefully will bring back to Norfolk another winning trophy!
For more details about how to enter the LABC Award in 2018 call Joan Hocking on 01508 535304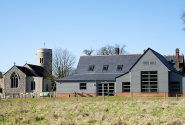 < Back to News